Dinner Lab X You Me Lunch
The Scoop:
You Me Lunch takes Dinner Lab (and Philadelphia) for just one night. Nya and I packed the car up and headed to the city of brotherly love for some amazing Dinner Lab grub. If you haven't heard of DL by now, I'm just going to suggest that you need to step your #foodie game way up. In a nutshell, Dinner Lab is a nomadic dining experiment, hosting really kick ass dinners in unique locations. These ain't your ordinary night out. They feature up-and-coming chefs with eclectic menus and randomly you could be having dinner in an old brothel or something. It's lit, I promise.
The Ambiance:
The dinner that we attended was held at Ruba club. We entered the event through a gateway, with a cozy courtyard decorated with red string lights. As we made our way up the steep wooden staircase, we entered a large theatre-style room. Sounds of a live jazz band filled the room and food aromas filled my nose. (We were late and hungry, but cute. soooo) Before I knew it we were surrounded by a great group of people and drinking all the booze in sight.
The Service:
Because of the uniqueness of Dinner Lab events the staff are trained superbly. The food was prepared live right in front of us! We could see the chefs preparing everything, as the featured chef spoke about each course. The food is served on the cutest bamboo plates. Dinner consisted of a small bite + four courses (one being dessert).
The Food:
Here's what was on the menu:
Because of our tardiness I wasn't able to taste the first two courses. However, the food that I did taste was amazing. My favorite course of the night was hands-down the braised lamb. I have always loved lamb, but am used to it being served lollipop style or street off the leg. It was delicious, so tender and the vinegary taste from the pickled grapes was the perfect complement. I used to hate brussels sprouts with a passion, but recently have been digging them. All it takes is some seasoning and roasting or frying them hard. Sooo much better!
Nya (who is a picky eater) and I also really loved the squash it was mix of butternut squash + acorn squash + a few other kinds. It truly was so good. Last but not least, the d-e-s-s-e-r-t. Freaking deconstructed apple pie. It was bomb, I probably would've served it warmer though.
That makes me remember, Dinner Lab events are totally about giving the chef honest feed. So in between each course we are asked to fill out these cards about the food were scarfing down. It's part of the experience.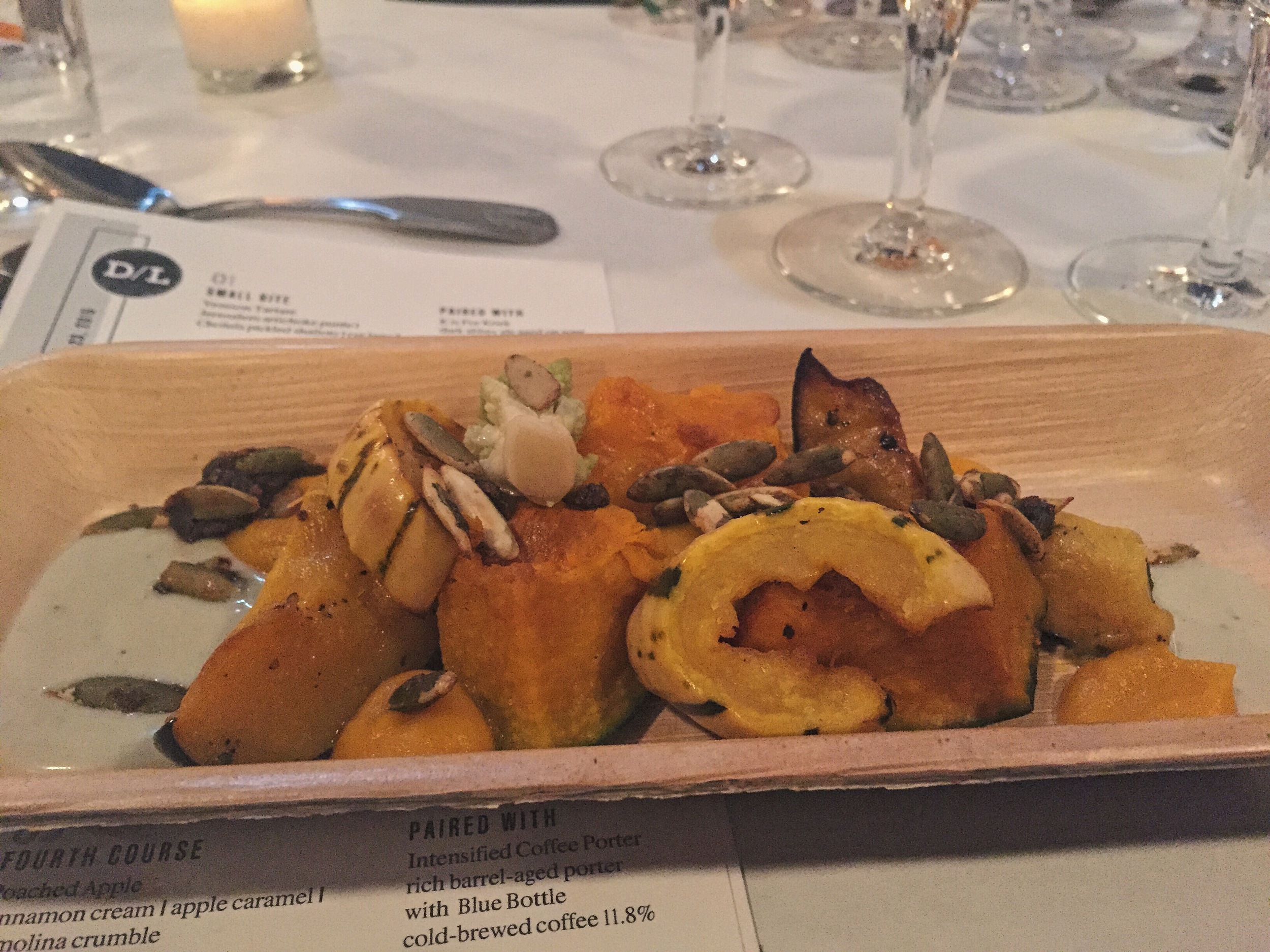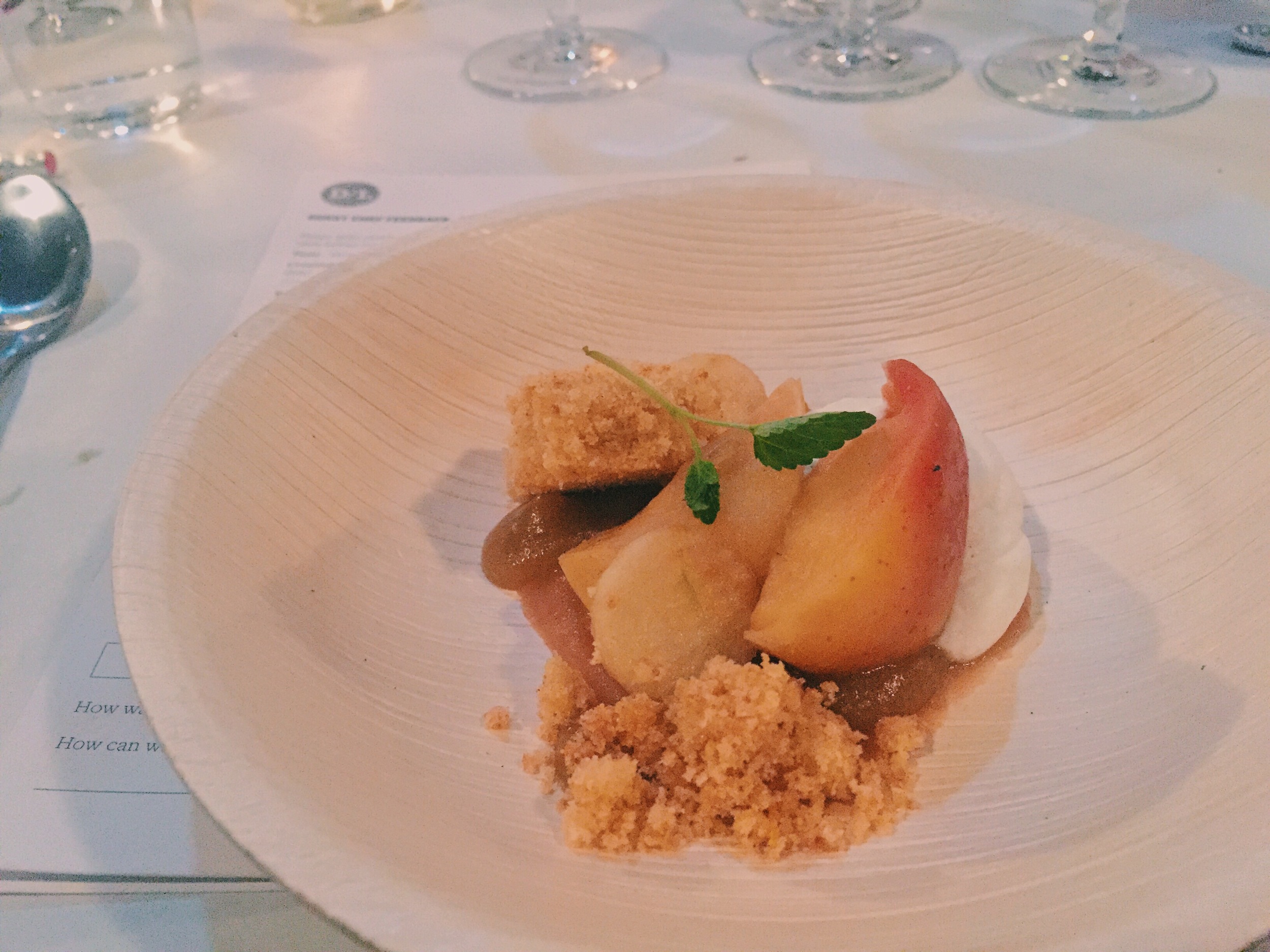 Rating: 5 bottles of booze
I'd just like to say that Dinner Lab is such an awesome company and I'm so glad to have found them.
When will you be attending your first Dinner Lab event? I bet they're in your city.
Follow DL:
P.s. I'll be doing my first blog giveaway soon. Stay tuned.
You. Me. Lunch. started as a saying between my best friend, Khaila, and I. It's been our way of saying 'see ya later' since we were seven years old. I guess you can say I'm an actual food baby.