The ONLY exception to slut-shaming: EGGSLUT
I just came back from my trip to L.A and I can honestly say I can see myself being a California gal. The weather, foodie scene & a few hilarious Uber drivers would all be worth it. Being the major foodie that I am, I had a list of restaurants that I knew I had to eat at. One being EGGSLUT *heart eyes emoji*. It was so exciting to learn that I only had to walk about 6 minutes to the Grand Central Market, which is where ES is located, from my DTLA hotel. Trust me, I was fan girlin' all over the place.
The Ambiance
Eggslut is located inside of the Grand Central Market in Downtown LA. The market is bustling with locals and tourists alike who have a serious appetite. There's seriously everything kind of cuisine you could imagine. Eggslut in particular has a cult following of sluts who are serious about their breakfast. ES is more like a stand-alone store within the market. As we inched closer and closer to the cashier and kitchen, our heads began bobbing. They were playing the best old school 90's music. I'm sure it was nostalgic for all the millennials in line, too. Overall, the experience was very laid-back and cool. Very much like what I expected just from their Instagram feed.
The Service
To be straight-up and frank about it all, we waited in line for about 1.5 hours. BUT, I PROMISE IT WAS WORTH THE HYPE & WAIT. Nevertheless, the food will make up for it. There was so much going on in the market that we were able to keep ourselves entertained. We even met a friend in line (Hey Winne!) She gave us the scoop on L.A.'s best food. All of the Eggslut team was friendly, nice and they moved so fast. We might've waited an hour to order, but it was ten minutes--tops-- for our food. The guy behind the counter calls you by name and repeats your order. Kind of rare these days--adds a nice touch.
The Food
THEY HAD SRIRCHA. Seriously, that will always be enough for me. I ordered the 'Bacon Egg & Cheese' + added avocado. Delicious. It was nice and hot--no cold food at ES. The bacon was hardwood smoked bacon, super thick-cut. Over-medium egg and velvety cheddar cheese. HELLO. All of their sandwiches are served on a warmed brioche bun, which adds a nice softness. Most of us ordered a sandwich, but my BFF, Teyana, wanted to be adventurous. She went all the way slutty & ordered the SLUT, "a coddled egg on top of a smooth potato purée, poached in a glass jar and served with a demi baguette." (Thanks EGGSLUT) Pretty much, it was hella good. It's a great option for those who don't want a bun!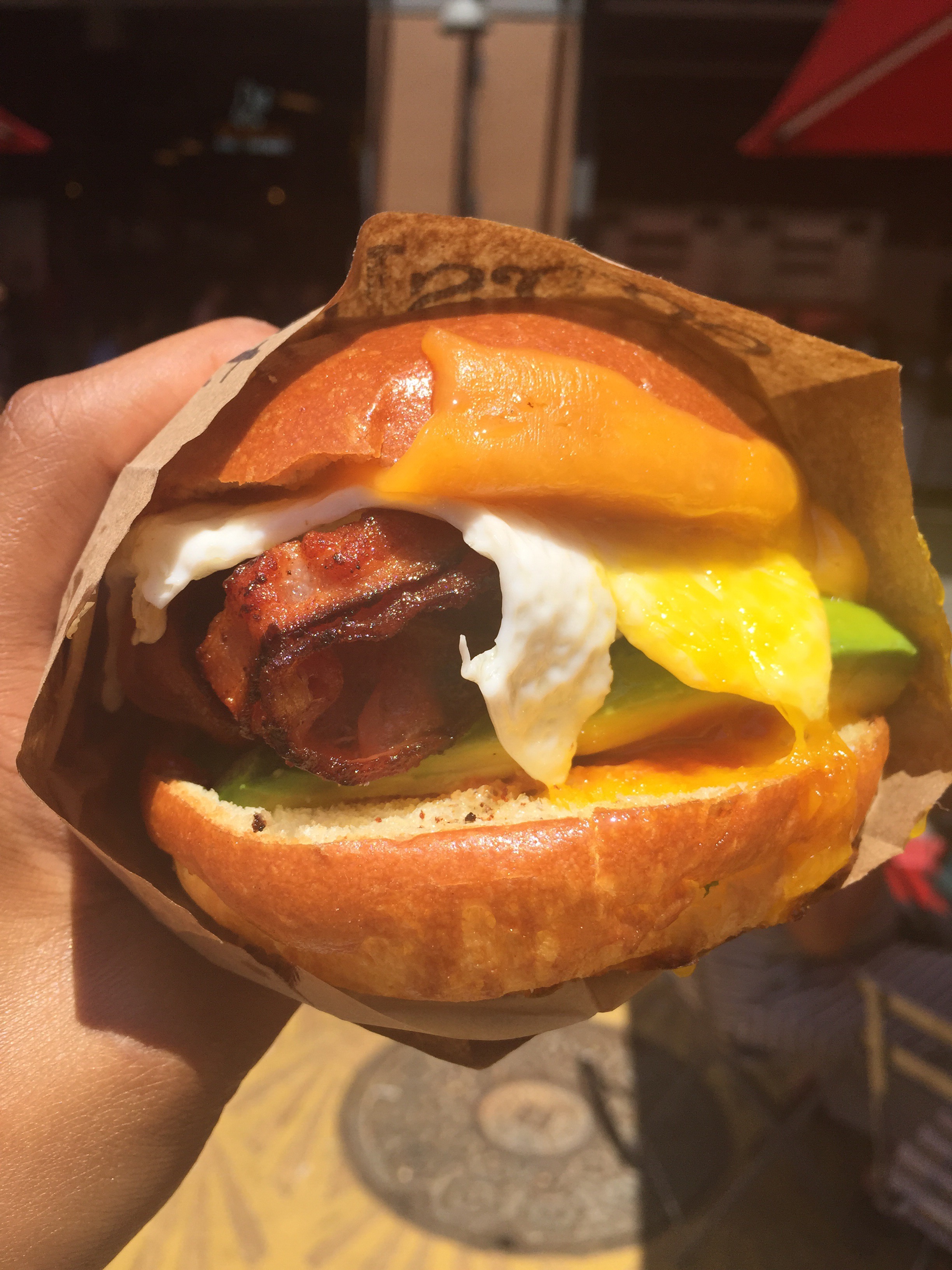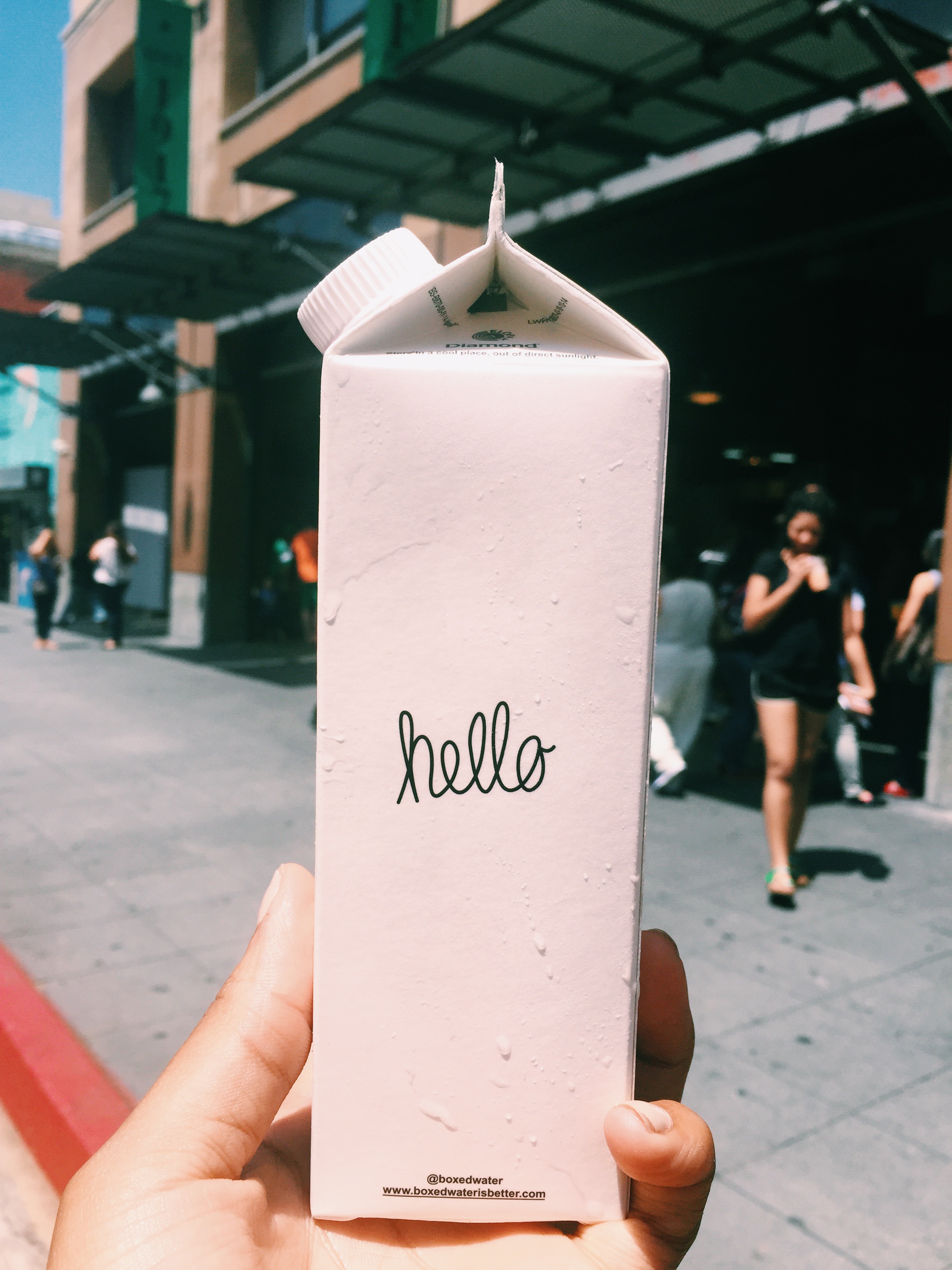 Listen, EggSlut was EGG-cellent. (haha) & I seriously have nothing but great things to say about them. I'm only hoping that maybe they will expand nationwide. An east coast girl can dream, can't she? I'll be back in L.A. within the next few months and EggSlut will continue to be at the top of my foodie to-do list.
Rating: 5 Seriously Slutty egg yolks
Check out EggSlut in DTLA:
Downtown Los Angeles
317 S. Broadway
Los Angeles, CA 90013
You. Me. Lunch. started as a saying between my best friend, Khaila, and I. It's been our way of saying 'see ya later' since we were seven years old. I guess you can say I'm an actual food baby.